Lutsen Mountains will continue to implement a daily capacity limit on skier visits during the 2022 – 2023 season to improve the guest experience, this will create a number of sold-out days.  Online reservations are strongly recommended and will be necessary for ensuring your space on the mountain for select dates.
2022/2023 Lift Tickets
Lift Tickets are sold at published rack rates and apply to any tickets purchased within 48 hours of arrival. Online purchases are encouraged to minimize wait time and congestion at ticket windows. Lift tickets are date-specific, non-transferable, and non-refundable ticket products.
 

First tracks

11/19-12/16

prime season

12/17-03/31

last tracks

04/01-04/30

daily adult [ages 16-79]
          saturday/holidays

$79

 

$95
$105

$79

 

Child [ages 6-15]
           saturday/holidays  

$64

 

$80
$90

$64

 

Tot [5 and under]

FREE

free

Free

SenIor [ages 80+]

FREE

Free

FREE
Rates and availability are subject to change.
Prices do not include applicable taxes and fees. 8.375% State & County Tax, 5.5% Resort Fees.
Advance Purchase Discounts
Online lift ticket purchases reward early commitment. This season we are offering 3 ways to save with our multi-day discount, early purchase incentives, and our family combo tickets. Stack your discounts and SAVE up to 40% on Prime Season Tickets. Online lift ticket discounts expire 48 hours prior to arrival. Online lift tickets are date-specific, non-transferable, and non-refundable ticket products.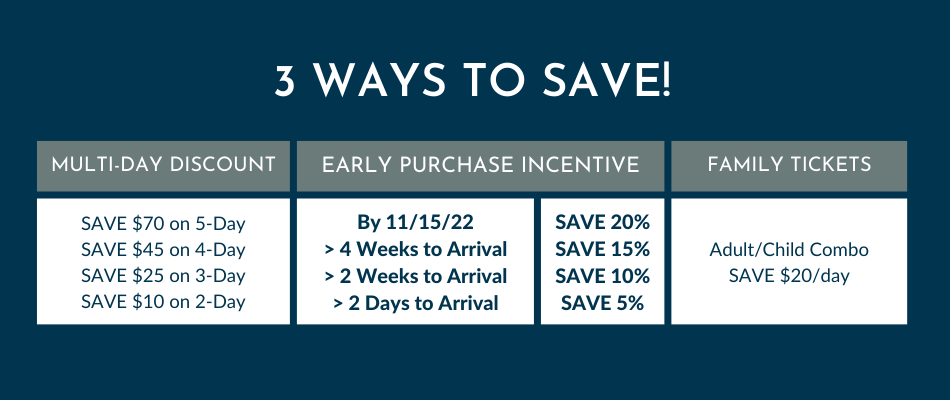 Lift Ticket Policies
reservation minimums
Advance purchase of tickets with start dates on Saturdays or during Winter Break (12/26 – 1/2) or President's Weekend (2/18 & 2/19) require a 2-day minimum.  Single-day lift tickets will be offered within 48 hours of arrival, subject to availability.
online ticket reservations
Online Lift Tickets must be purchased at least 48 hours in advance to qualify for advance rates. Lift tickets are date specific and cannot be transferred to another date. Online orders are due in full at the time of purchase.
online ticket cancellations
Lift tickets and rentals are issued for a specific start date upon time of purchase and are non-refundable. If you are unable to use items within your order this season, the value paid for the unused products can be applied as a credit to your lutsen.com online account. Account credits for unredeemed lift tickets and rentals must be requested by calling Lutsen Mountains Central Reservations no later than April 30, 2023. Partial use of lift tickets and rentals are eligible for fractional credit per our Return Skier Visit Program.
Online Discounts
All discounts and packages must be purchased at least 48 hours in advance. Online rates are not available at the ticket windows. 
Online Redemptions
Upon arrival please visit our Lutsen Mountains Ticket Windows to redeem your online order, have your itinerary number ready for our agents, and your release of liability completed to expedite the process. If taking a lesson plan to be onsite 60-90 minutes prior to your scheduled lesson time. We ask only one person in your party enter the line to minimize congestion.
Release of Liability Form
A new waiver of liability is required each season for every guest. Waivers can be filled out anytime at www.lutsen.com/waiver and will attach to your guest record on your first visit of the season. Each person on your order must have a completed waiver prior to entering the ticket line.
If you have any questions regarding our online purchase system,
please contact Lutsen Mountains Central Reservations by emailing ski@lutsen.com or by calling 218-406-1320.