Terms and Responsibilities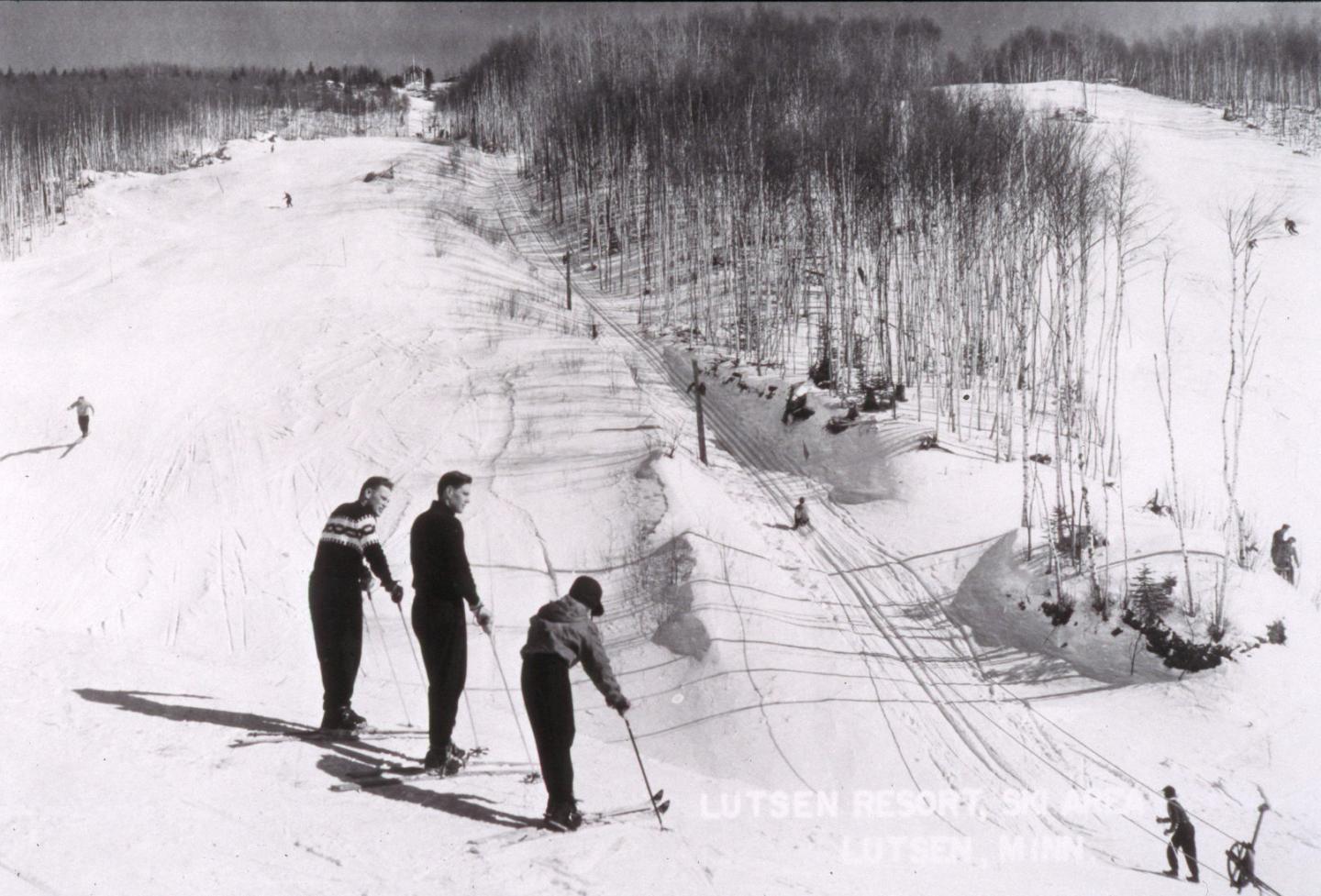 Lutsen Mountains Ski Area Policies
Lift Tickets/Season Passes
Access to slopes and lifts is permitted only to those with a valid Lift Ticket or Season Pass. Anyone caught on the slopes without a valid lift ticket or season pass will be charged the daily lift ticket rate and an additional no ticket fee. Please put your lift ticket on right after purchase and in a visible location easily accessed by our staff. Lutsen Mountains will not replace lift tickets or season passes if lost or stolen.
Ski Equipment
Lutsen Mountains allows the use of skis, snowboards, and adaptive devices or other "manually-powered mobility aids" designed for use on the ski slopes. Adaptive devices are any specialized equipment that was designed and manufactured primarily for use by individuals who have disabilities, including; mono skis, bi skis, ski outriggers, and sit-skis.
Ski bikes, snow skateboards, and power-driven mobility devices are prohibited at Lutsen Mountains.
Rules of Conduct
Lutsen Mountains reserves the right to revoke the lift ticket or season pass of any skier/rider without warning or refund for reckless, out-of-control skiing/riding, the failure to act in accordance with the rules of the Responsibility Codes or other conduct detrimental to other patrons, staff members, the ski area or terrain parks. Lutsen Mountains reserves the right to deny the use of area facilities to anyone who appears to be under the influence of drugs and/or alcohol.
Uphill Access
Uphill travel is prohibited within the ski area boundary. This applies at all times to all uphill traffic including but not limited to skinning (skis or snowboard), snowshoeing, and winter hiking.
Operations
Lutsen Mountains reserves the right to operate lifts and slopes according to skier/rider traffic and weather conditions. Best efforts are made to have Snow and Grooming reports accurate and up-to-date, however, closures of lifts and runs may occur prior to an online update. No refunds or rainchecks will be issued as a result.
Helmets
Helmets are not required at Lutsen Mountains but are strongly encouraged. Helmets are available for rent in our rental shop and are available for purchase in our ski shop. Parents are encouraged to log onto lidsonkids.org for further information on the protection afforded by helmets.
Photography/Videography
In the course of taking pictures or video for future brochures or other promotional materials, it is possible that you may be filmed while you are at Lutsen Mountains. As a condition of the purchase of your lift ticket or season pass, you are granting Lutsen Mountains the right to use any and all such photographs or video in any advertising or publicity of Lutsen Mountain without additional consent.
Responsibility Code
Skiing and riding can be enjoyed in many ways. At ski areas, you may see people using alpine, snowboard, telemark, cross country and other specialized ski equipment, such as that used by disabled or other skiers. Regardless of how you decide to enjoy the slopes, always show courtesy to others and be aware that there are elements of risk that common sense and personal awareness can help reduce. Observe the code listed below and share with other skiers & riders the responsibility for a great experience.
Always stay in control, and be able to stop or avoid other people or objects.
People ahead of you have the right of way. It is your responsibility to avoid them.
You must not stop where you obstruct a trail or are not visible from above.
Whenever starting downhill or merging into a trail, look uphill and yield to others.
Always use devices to help prevent runaway equipment.
Observe all posted signs and warnings. Keep off closed trails and out of closed areas.
Prior to using any lift, you must have the knowledge and ability to load, ride and unload safely.
KNOW THE CODE. IT'S YOUR RESPONSIBILITY.
This is a partial list. Be safety conscious.
Officially endorsed by: NATIONAL SKI AREAS ASSOCIATION
Passenger Notice
The American National Standard For Passenger Ropeways recognizes that certain dangers and risks are inherent in machines of this type, and their operation. It is also recognized that inherent and other risks or dangers exist for those who are in the process of loading, riding or unloading from lifts, tows or conveyors. Passengers accept the risks inherent in such participation of which the ordinary prudent person is or should be aware.
Passengers shall use good judgment and act in a responsible manner while using the ropeway, tow or conveyor, including:
Participating in the loading, riding, and unloading processes in such a manner as to reduce risks for themselves and others;
Obeying all written and oral instructions and warnings;
Refraining from using the lift, tow or conveyor while under the influence of drugs or alcohol;
Properly use the lift, tow or conveyor and equipment provided.
All passengers who use a lift, tow or conveyor shall be responsible for their own loading, riding, and unloading. They shall be presumed to have sufficient ability, physical dexterity, and/or personal assistance to negotiate and to be evacuated safely. Passengers shall maintain control of their speed and course while loading and unloading. A passenger shall get on and get off at designated areas.
No passenger shall load the lift without first understanding and observing the proper loading, riding, and unloading procedures.
Passengers, while riding a ropeway, tow or conveyor; shall not throw or expel therefrom any object, nor shall any passenger do any act or thing that shall interfere with the operation. Passengers shall not willfully engage in any type of conduct that may contribute to or cause injury to any other person.
Please read and observe all signs. As for instructions if needed.
Drone Policy
Out of safety concerns for guests, employees and ski area property, as well as concerns for individual privacy, Lutsen Mountains prohibits the operation or use of unmanned aerial systems, or drones, by the general public including recreational users and hobbyists without the prior written authorization from the ski area. This prohibition includes drones used for filming or videotaping, as well as any drone use by media or journalists operating above or within the ski area boundaries. This prohibition on drone operations or use extends to any drones launched or operated from the ski area boundaries, as well as drones launched from private property outside of the ski area boundaries. Please contact customerservice@lutsen.com if you have any questions or if you seek prior authorization to operate any aerial drones.
Any authorized operation of aerial drones may be governed by Federal Aviation Administration (FAA) rules and regulations, local law enforcement as well as those policies separately established by Lutsen Mountains, which may include certification, training, insurance coverage, indemnification requirements, and waivers or releases of liability.
Any violation of this policy may involve suspension of your skiing or snowboarding privileges, or the revocation of your season pass, as well as confiscating of any drone equipment, and may subject violators to any damages, including, but not limited to, damages for violations of privacy and/or physical or personal injuries or property damage, as well as regulatory fines and legal fees.
Website Accessibility Policy
Lutsen Mountains Corporation ("Company") strives to comply with best practices and standards for website accessibility for guests with disabilities as defined by Section 508 of the U.S. Rehabilitation Act and the Web Content Accessibility Guidelines (WCAG). To permit Company content providers to meet this goal, the Company implements the following initiatives:
Developing and distributing accessibility practices for Company content providers
Appointing a website accessibility coordinator who is responsible for coordinating the Company's responsibilities with respect to accessibility, and responsible for developing the accessibility practices
Conforming our website with the WCAG Guidelines 2.0 AA
Modifying our website to permit content providers to post content in a format that conforms to WCAG for web content
Ensuring that our website does not interfere with the posting of content in formats that conform to W3C's guidance on accessibility
The Company undertakes these accessibility initiatives to expand access to everyone and to assist content providers with providing content in accessible formats.
Please direct any questions or suggestions on how to improve the accessibility of our website to customerservice@lutsen.com or call 877.824.8670. We welcome your feedback.
Return Skier Visit Program
The Return Skier Visit Program (RSVP) provides guests the opportunity to return partially used Flex Tickets and receive credit toward future Lutsen Mountains ski tickets. To receive credit, tickets must not be scanned for that date and returned to the main ticket office prior to 11 a.m. on the valid date of issue.
When unused days on lift tickets are put into the RSVP account, guests receive a credit for the difference between what they did pay, and what they would have paid for the number of days used.
For example, if a guest purchases a 5-day Flex Ticket for $390 and only uses 3 days, they receive the difference between what they paid for the 5-day ticket and what they would have paid had they purchased a 3-day Flex ticket ($246) - the value of the RSVP credit is $144.
In the case of a Family Package, a 5-day Adult/Child combo ticket is $460. If only 4 days were used, a 4-day Adult/Child combo ticket would have cost $368, so the difference between the 4-day family combo ticket and a 3-day Family ticket would offer a credit of $92.  Due to the deep discounts on the Family Tickets, there are no credits available for partial use of less than 4 days.
Guests have one year from the date of issue to use the RSVP credit. Lutsen Mountains will not replace or extend lost or unused RSVP credits.
Terms and Conditions
Use of the Website
By accessing the website, you warrant and represent to the website owner that you are legally entitled to do so and to make use of information made available via the website.
Trademark
The trademarks, names, logos and service marks (collectively "trademarks") displayed on this website are registered and unregistered trademarks of the website owner. Nothing contained on this website should be construed as granting any license or right to use any trademark without the prior written permission of the website owner.
External Links
External links may be provided for your convenience, but they are beyond the control of the website owner and no representation is made as to their content. Use or reliance on any external links and the content thereon provided is at your own risk.
Warranties
The website owner makes no warranties, representations, statements or guarantees (whether express, implied in law or residual) regarding the website, the accuracy of the information, or availability of products or services.
Disclaimer of Liability
The website owner shall not be responsible for and disclaims all liability for any loss, liability, damage (whether direct, indirect or consequential), personal injury or expense of any nature whatsoever which may be suffered by you or any third party (including your company), as a result of or which may be attributable, directly or indirectly, to your access and use of the website, any information contained on the website, your or your company's personal information or material and information transmitted over our system. In particular, neither the website owner nor any third party or data or content provider shall be liable in any way to you or to any other person, firm or corporation whatsoever for any loss, liability, damage (whether direct or consequential), personal injury or expense of any nature whatsoever arising from any delays, inaccuracies, errors in, or omission of any prices or information or the transmission thereof, or for any actions taken in reliance thereon or occasioned thereby or by reason of non-performance or interruption, or termination thereof.
Conflict of Terms
If there is a conflict or contradiction between the provisions of these website terms and conditions and any other relevant terms and conditions, policies or notices, the other relevant terms and conditions, policies or notices which relate specifically to a particular section or module of the website shall prevail in respect of your use of the relevant section or module of the website.
Severability
Any provision of any relevant terms and conditions, policies and notices, which is or becomes unenforceable in any jurisdiction, whether due to being void, invalidity, illegality, unlawfulness or for any reason whatever, shall, in such jurisdiction only and only to the extent that it is so unenforceable, be treated as void and the remaining provisions of any relevant terms and conditions, policies and notices shall remain in full force and effect.
Applicable Laws (choice of venue and forum)
Use of this website shall in all respects be governed by the laws of the state of Minnesota, U.S., regardless of the laws that might be applicable under principles of conflicts of law. The parties agree that the Minnesota courts located in Cook County, Minnesota, shall have exclusive jurisdiction over all controversies arising under this agreement and agree that venue is proper in those courts.
Privacy Policy
We respect and are committed to protecting your privacy. This privacy policy lets you know how your personal information is processed and used. We promise that we will take steps to use your personal information only in ways that are compatible with this Privacy Policy.
The following policies are in effect for the web pages, newsletters and opt-in announcement lists owned and operated by Lutsen Mountains Ski & Summer Resort, which includes lutsen.com.
Technical Information Collected
Every computer connected to the Internet is given a domain name and a set of numbers known as the "Internet Protocol" IP address. Like most web servers, when a visitor requests a page from any Web Site within skigranitepeak.com our servers automatically recognize and log that visitor's domain name, IP address, access times, referring web sites, platform, and browser type. This information reveals nothing personal about you other than the IP address from which you have accessed our site. We use these logs to provide statistics about our Web site usage in aggregate, to assist us in the maintenance, design, and operation of our Web site, and to investigate misuse of lutsen.com, its users, or to cooperate with law enforcement. We do not collect and evaluate this information for specific individuals. Our Web servers do not automatically record e-mail addresses of the visitors.
Information on Cookies
When using our sites, lutsen.com or its advertisers may send a "cookie" to your computer. A cookie is a small piece of data that is sent to your browser from a web server and stored on your computer's hard drive. A cookie can't read data off your hard disk or read cookie files created by other Web sites. Cookies do not damage your system. We use cookies to identify which areas of lutsen.com's web site you have visited, personalized or customized, so the next time you visit those pages may be readily accessible. Our advertisers may also use cookies to ascertain how many times you've seen an advertisement. We and our advertisers may use this information to better personalize the content and promotions that you see on our Site. You can choose whether to accept cookies by changing the settings of your browser. You can reset your browser to refuse all cookies or allow your browser to show you when a cookie is being sent. If you choose not to accept these cookies, your experience at our site and other Web sites will not work as intended.
Registration Data
lutsen.com offers a shopping cart system to visitors. We will use your registration contact information to send notification of lutsen.com products and services by e-mail. lutsen.com reserves the right to send to our registered members' email notices and announcements that may be of interest to lutsen.com users. TO NOT RECEIVE ANY COMMUNICATION FROM lutsen.com, MEMBERS SHOULD REQUEST TO 'OPT-OUT' ON OUR EMAIL LISTS WHICH IS LOCATED ON THE BOTTOM OF EACH EMAIL SENT. We respect and will honor all requests to correct, erase, or otherwise act in our visitor's wishes in regards to the use of their data.
Email Announcements and Opting-out
We will most likely also request your e-mail address and other personal information for the purposes of providing additional services (for example, subscriptions to email newsletters). Whenever we request the identity of a visitor, we will clearly indicate the purpose of the inquiry before the information is requested. You can unsubscribe from our newsletters at the following link or by following the instructions at the bottom of every email.
We maintain a strict "No-Spam" policy that means that we do not intend to sell, rent, or otherwise give your e-mail address to a third-party, without your consent.
Single-pixel Images
lutsen.com and its advertisers may use single-pixel gif images, sometimes referred to as web bugs or web beacons, to count Web page accesses and gather some general statistical information. lutsen.com does not gather personal information through the use of these images. Our advertisers may use single-pixel gifs that can track personal information from cookies that may have been previously placed on a user's computer by an advertiser.
Disclosure Where Required by Law
lutsen.com will disclose personal information and/or an IP address when required by law or in the good-faith belief that such action is necessary to:
Cooperate with the investigations of purported unlawful activities or comply with legal process served on lutsen.com,
Protect and defend the rights or property of lutsen.com and related properties, or visitors to lutsen.com and related properties,
Identify persons who may be violating the law, website terms of use, the rights of third parties, or otherwise misusing lutsen.com or its related properties.
Security of Data
lutsen.com uses reasonable precautions to keep the information disclosed to us secure. lutsen.com reserves the right to transfer all such information in connection with the sale of all or part of lutsen.com's capital stock or assets. Furthermore, we are not responsible for any breach of security or for any actions of any third parties that receive the information. We are not responsible for such third party privacy policies or how they treat information about their users.
Your Consent to This Agreement
By using our Web site, you consent to the collection and use of information by lutsen.com as specified above. If we decide to change our privacy policy, we will post those changes on this page so that you are always aware of what information we collect, how we use it, and under what circumstances we disclose it.